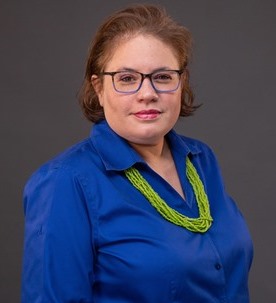 Danielle C. Ompad, PhD
CDUHR - Deputy Director and Associate Director, Transdisciplinary Research Methods Core
NYU School of Global Public Health - Associate Dean for Education & Professor

Education
PhD, Infectious Disease Epidemiology, The Johns Hopkins University Bloomberg School of Public Health
MHS, Infectious Disease Epidemiology, The Johns Hopkins University Bloomberg School of Public Health
BS, Biology, Bowie State University
Research Interests
PWUDs, PWIDs, HIV and HCV care cascades, Club drugs, Cannabis, Natural history, Social determinants, Drug cessation, Eastern Europe/Central Asia
BIO
Danielle C. Ompad is the Deputy Director for CDUHR and Director of CDUHR's Dissemination & Implementation Core.  She is also an Associate Professor at NYU's School of Global Public Health.  Dr. Ompad is an infectious disease epidemiologist with extensive experience in design, conduct, and analysis of community-based cross-sectional and prospective studies.  Her research interests include illicit substance use, sexual risk behaviors, infectious diseases (e.g., HIV, HBV, HCV, HSV, and HPV), adult access to vaccines, and urban health.  She has studied HIV risk, and social determinants of that risk, among drug using populations in the US (Baltimore and New York, in particular), Ukraine, and Russia.  Dr. Ompad was a member of the Synergy Circle of the Knowledge Network on Urban Settings, a network created by WHO's Commission on Social Determinants of Health to consider the role of urbanization in health outcomes. She has also been a consultant to the WHO and PAHO on urban health issues. She was a member of the Rockefeller Foundation-funded Roundtable for Urban Living Environment Research (RULER) group. She is an Associate Editor for the Journal of Urban Health and former secretary for the International Society for Urban Health.
Publications
Recent

Notable
Ompad DC
, Bell DL, Amesty S, Nyitray AG, Papenfuss M, Lazcano-Ponce E, Villa LL, Giuliano AR (2013).
Men who purchase sex, who are they? An interurban comparison
Journal of Urban Health
, 90 (6), 1166-1180. doi:
10.1007/s11524-013-9809-8
. PMCID: PMC3853174.
Ompad DC
, Nandi V,
Cerda M
, Crawford N, Galea S, Vlahov D (2012).
Beyond income: Material resources among drug users in economically-disadvantaged New York City neighborhoods
Drug and Alcohol Dependence
, 120 (1-3), 127-134. doi:
10.1016/j.drugalcdep.2011.07.008
. PMCID: PMC3225725.
Dr. Ompad's MyBibliography Profile