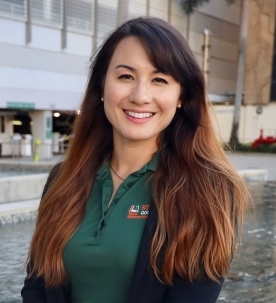 Cho-Hee Shrader, PhD, MPH
Columbia University Mailman School of Public Health - ICAP - Postdoctoral Research Fellow
Education
PhD, Prevention Science and Community Health, University of Miami School of Medicine
MPH, Global Health, Emory University Rollins School of Public Health
BS, Health and Human Physiology, University of Iowa
Research Interests
Social network analysis, Spatial epidemiology, Health disparities, HIV prevention, Implementation science, Substance use
BIO
Cho-Hee Shrader (she/her) is a Postdoctoral Research Fellow in Global HIV Implementation Science in ICAP at Columbia University (T32AI114398; PI: Howard). Dr. Shrader's research explores the intersection of how social networks and neighborhood characteristics impact minority health disparities, such as HIV, stress, and substance use disorder among sexual, gender, and racial/ethnic minority communities. Her recent work incorporates implementation science to characterize influences on social network-based HIV prevention interventions. She is a Postdoctoral Research Fellow in Dr. Dustin Duncan's Spatial Epidemiology Lab at Columbia University. Additionally, Dr. Shrader is an Epidemiologist/Surveillance Advisor for the Trace Initiative in ICAP at Columbia University, focusing on the implementation of rapid tests for recent HIV infection in Central America. Dr. Shrader received her PhD in Prevention Science and Community Health at the University of Miami School of Medicine (2021) which was funded by a Ruth L. Kirschstein National Research Service Award from the National Institute of Minority Health and Health Disparities. Her F31 award and dissertation explored how social networks and neighborhood determinants influenced Latino/x men who have sex with men's access to PrEP and PrEP-related information. She is also an Enhanced Interdisciplinary Research Institute Fellow through the University of Southern California (R25DA026401).
Publications
Recent

Notable
Shrader CH
, Jefferson KP, Kanamori M, Rochat R, Siegler A (2021).
"I'd rather use a refuse bag:" A qualitative exploration of a South African community's perceptions of government-provided condoms and participant-preferred solutions
Archives of Sexual Behavior
, 50 (2), 615-627. doi:
10.1007/s10508-020-01701-2
. PMCID: PMC7609579.
Kanamori M,
Shrader CH
, St George S, Adkins T, Bartholomew TS, Sanchez M, De La Rosa M (2022).
Influences of immigration stress and occupational exploitation on Latina seasonal workers' substance use networks: A qualitative study
Journal of Ethnicity in Substance Abuse
, 21 (2), 457-475. doi:
10.1080/15332640.2020.1778591
. PMCID: PMC7775321.
Algarin AB,
Shrader CH
, Bhatt C, Hackworth BT, Cook RL, Ibanez GE (2019).
The pre-exposure prophylaxis (PrEP) continuum of care and correlates to initiation among HIV-negative men recruited at Miami Gay Pride 2018
Journal of Urban Health
, 96 (6), 835-844. doi:
10.1007/s11524-019-00362-4
. PMCID: PMC6904709.
Dr. Shrader's MyBibliography Profile