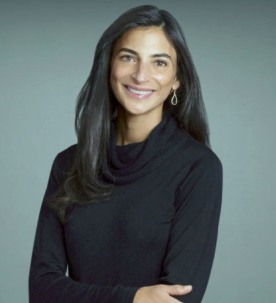 Maria R. Khan, PhD, MPH
CDUHR - Associate Director, Dissemination & Implementation Core
NYU Langone Health - Director, Comparative Effectiveness Research Training Program
NYU Langone Health - Associate Professor, Division of Comparative Effectiveness Research and Decision Science
Education
PhD, Epidemiology, University of North Carolina - Chapel Hill
MPH, Maternal & Child Health, University of North Carolina - Chapel Hill
Research Interests
Sexually transmitted infections, HIV, Criminal justice involvement, Addictions, Social support, Adolescent health
BIO
Dr. Khan researches social and behavioral determinants of the sexually transmitted infection (STI) and HIV epidemics in the US with recent work focused on the nexus of mass incarceration, addictions, and STI/HIV. She currently is funded to conduct a longitudinal cohort study to examine factors driving HIV-related drug and sex risk after release from prison incarceration and buffering effects of social support from primary committed partners. Informed by cohort study findings, members of her team currently are in the process of adapting Project CONNECT, a couples-based HIV prevention intervention, for inmates and their partners that addresses the mood and personality factors that uniquely challenge inmates. She has conducted extensive secondary data analysis research using large nationally-representative data sources, including the National Longitudinal Study of Adolescent to Adult Health (Add Health). She recently has been funded to use Add Health to examine the role of childhood trauma in driving adolescent and adulthood substance use, criminal justice involvement, and STI/HIV. Dr. Khan also examines social determinants of STI/HIV in global settings, having worked in Burkina Faso, Madagascar, Jamaica, and, most recently, Haiti to measure mobility and STI/HIV in a semi-urban area located at the epicenter of Haiti's 2010 earthquake.
Publications
Recent

Notable
Khan MR
, Miller WC, Schoenbach VJ, Weir SS, Kaufman JS, Wohl DA, Adimora AA (2008).
Timing and duration of incarceration and high-risk sexual partnerships among African Americans in North Carolina
Annals of Epidemiology
, 18 (5), 403-410. doi:
10.1016/j.annepidem.2007.12.003
. PMCID: PMC2877367.
Khan MR
, Epperson MW,
Mateu-Gelabert P
, Bolyard M, Sandoval M,
Friedman SR
(2011).
Incarceration, sex with an STI- or HIV-infected partner, and infection with an STI or HIV in Bushwick, Brooklyn, NY: A social network perspective
American Journal of Public Health
, 101 (6), 1110-1117. doi:
10.2105/AJPH.2009.184721
. PMCID: PMC3093283.
Khan MR
, Behrend L, Adimora AA, Weir SS, Tisdale C, Wohl DA (2011).
Dissolution of primary intimate relationships during incarceration and associations with post-release STI/HIV risk behavior in a southeastern city
Sexually Transmitted Diseases
, 38 (1), 43-47. doi:
10.1097/OLQ.0b013e3181e969d0
. PMCID: PMC3569980.
Dr. Khan's MyBibliography Profile