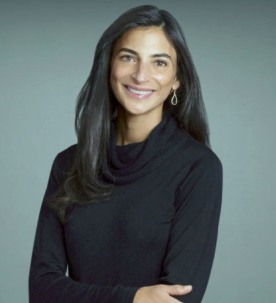 Maria R. Khan, PhD, MPH
CDUHR - Associate Director, Infectious Disease Epidemiology and Social-behavioral Theory Core
NYU Langone Health - Director, Comparative Effectiveness and Implementation Research Training (CEIRT) Program
NYU Langone Health - Associate Professor, Division of Comparative Effectiveness Research and Decision Science
Education
PhD, Epidemiology, University of North Carolina - Chapel Hill
MPH, Maternal & Child Health, University of North Carolina - Chapel Hill
Research Interests
Sexually transmitted infections, HIV, Criminal justice involvement, Addictions, Social support, Adolescent health
BIO
Maria Khan is an epidemiologist who studies social determinants of STI/HIV-related drug and sex risk in vulnerable populations, who has considerable expertise measuring the influence of criminal justice involvement on STI/HIV risk. She developed a conceptual model that describes the likely pathways through which criminal justice involvement acts as a structural determinant of STI/HIV transmission; her funded studies have focused on testing this model in diverse populations. Her current NIDA-funded R01, "Stop-and-Frisk, Arrest, and Incarceration and STI/HIV Risk in Minority MSM," aims to measure the effects of aggressive policing and incarceration on psychosocial vulnerability, mental health, stigma, and access to healthcare, and in turn STI/HIV risk among minority men who have sex with men (MSM). She also is funded to evaluate the New York City Department of Health and Mental Hygiene Health Justice Network (HJN), a trauma-informed program aiming to improve the health and well-being of justice-involved populations reentering their communities after release from jail and prison. Her prior studies have measured the influence of childhood traumas on criminal justice involvement and STI/HIV risk, and she has worked for years conducting STI/HIV prevention studies in international settings.
Publications
Recent

Notable
Khan MR
, Miller WC, Schoenbach VJ, Weir SS, Kaufman JS, Wohl DA, Adimora AA (2008).
Timing and duration of incarceration and high-risk sexual partnerships among African Americans in North Carolina
Annals of Epidemiology
, 18 (5), 403-410. doi:
10.1016/j.annepidem.2007.12.003
. PMCID: PMC2877367.
Khan MR
, Epperson MW,
Mateu-Gelabert P
, Bolyard M, Sandoval M,
Friedman SR
(2011).
Incarceration, sex with an STI- or HIV-infected partner, and infection with an STI or HIV in Bushwick, Brooklyn, NY: A social network perspective
American Journal of Public Health
, 101 (6), 1110-1117. doi:
10.2105/AJPH.2009.184721
. PMCID: PMC3093283.
Khan MR
, Behrend L, Adimora AA, Weir SS, Tisdale C, Wohl DA (2011).
Dissolution of primary intimate relationships during incarceration and associations with post-release STI/HIV risk behavior in a southeastern city
Sexually Transmitted Diseases
, 38 (1), 43-47. doi:
10.1097/OLQ.0b013e3181e969d0
. PMCID: PMC3569980.
Dr. Khan's MyBibliography Profile