2022-2023 event Series
CDUHR Seminar – Angela Bazzi – October 11, 2022
Tuesday, October 11, 2022, 10:30 am-11:30 am
Location: Zoom Webinar
Presented by: Angela Bazzi, PhD, MPH
Presentation title: Intervention and Implementation Research to Improve HIV Pre-Exposure Prophylaxis Access and Utilization among People Who Inject Drugs
Amidst increasing opioid and polysubstance use nationally,  HIV transmission among people who inject drugs (PWID) has impacted diverse regions of the United States, including rural, suburban, and urban areas. Novel HIV prevention strategies are needed. However, a decade after antiretroviral pre-exposure prophylaxis (PrEP) was FDA-approved, levels of PrEP uptake among PWID lags far behind those of other at-risk groups. This talk will describe multilevel barriers to PrEP access, uptake, and adherence among U.S. PWID, highlight promising strategies being implemented in clinical and community settings, and explore ongoing intervention and implementation research seeking to improve PrEP delivery to and uptake among PWID.
---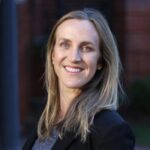 Angela R. Bazzi, PhD, MPH, is an Associate Professor at UC San Diego's Herbert Wertheim School of Public Health and an Adjunct Associate Professor at the Boston University School of Public Health. Her mixed methods research explores the social and structural determinants of infectious disease outcomes among people who use and inject drugs in the United States and globally. Dr. Bazzi currently leads intervention and implementation research studies seeking to improve access to HIV prevention and harm reduction services, including antiretroviral pre-exposure prophylaxis, for people who use drugs. She teaches graduate coursework on substance use and population health and serves as an Associate Editor at Addiction Science & Clinical Practice and an Editorial Board Member at Drug and Alcohol Dependence.
Monkeypox Presentation – Dustin Duncan – October 6, 2022
Thursday, October 6, 2022, 12:00 pm-1:00 pm
Location: Zoom Webinar
Presented by: Dustin T. Duncan, ScD
Presentation title: The Monkeypox (MPX) Outbreak: Monkeypox Epidemiology, Prevention, and Treatment Among Sexual and Gender Minority Populations
This talk on the global monkeypox public health emergency will focus on sexual and gender minority (SGM) populations and include a discussion on monkeypox epidemiology (e.g., current epidemiological trends both nationally and globally) as well as monkeypox prevention and treatment options (e.g., asking potential partners about monkeypox symptoms as well as vaccination) in general (i.e., non-lesbian, gay, bisexual and transgender [LGBT]) as well as LGBT (or SGM) populations. Given disparities in monkeypox infection and monkeypox vaccine uptake, especially among racial/ethnic minority men who have sex with men (MSM), who face intersectional stigma from their dually marginalized identities, Dr. Duncan will also discuss stigma as it relates to monkeypox in SGM populations broadly and SGM populations with intersectional identities in particular.
---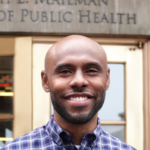 Dustin T. Duncan is an Associate Professor in the Department of Epidemiology at Columbia University's Mailman School of Public Health, where he directs the Columbia Spatial Epidemiology Lab and co-directs the department's Social and Spatial Epidemiology Unit. Dr. Duncan is a Social and Spatial Epidemiologist, studying how specific neighborhood characteristics influence population health and health disparities. His research has a strong domestic (U.S.) focus, but recent work is beginning to span across the globe (including studies in Paris and London). His research utilizes a geospatial lens to apply spatially explicit approaches such as computer-based geographic information systems (GIS), web-based geospatial technologies, real-time geospatial technologies, and geospatial modeling techniques. Dr. Duncan's research appears in leading journals and he has over 175 publications and book chapters; his research has appeared in major media outlets including the US News and World Report, The Washington Post and The New York Times. Dr. Duncan's recent work has been funded by the National Institutes of Health, Robert Wood Johnson Foundation, Verizon Foundation, Aetna Foundation, and HIV Prevention Trials Network (HPTN).
CDUHR Seminar – Cho Hee Shrader – September 13, 2022 (Video)
Tuesday, September 13, 2022, 10:30 am-11:30 am
Location: Zoom Webinar
Presented by: Cho-Hee Shrader, PhD, MPH
Presentation title: Like Seeks Like: Leveraging Homophily for HIV Prevention Within Networks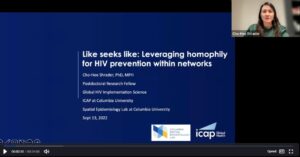 Link to Video
---
Despite innovations in HIV prevention, HIV continues to persist among vulnerable and priority populations such as people who inject drugs (PWID), and Black and Latine sexual minority men (BLSMM). Interventions often focus on the individual-level or the population level, with less attention being given to the social network level despite the social network environment being a powerful impetus which can facilitate or restrict access to HIV prevention innovations. Homophily, the tendency for people to seek out those who are similar to themselves, is a phenomena which can begin to explain the diffusion of information and endorsement of network norms among PWID and BLSMM. This talk will describe how network norms influence individual-level behaviors for PWID and BLSMM, and identify how homophily can reduce or increase access to HIV prevention information and innovations within the social networks of BLSMM.
---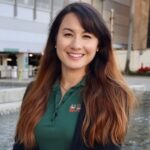 Cho-Hee Shrader (she/her) is a prevention scientist and NIH T32 Postdoctoral Research Fellow in the Global HIV Implementation Science program in ICAP at Columbia University (T32AI114398; PI: Howard). She is also affiliated with Dr. Dustin Duncan's Spatial Epidemiology Lab at Columbia University. Dr. Shrader's research explores how the intersection of implementation science, social networks, and neighborhood characteristics impacts minority health and health disparities, such as HIV vulnerability, mental health, and substance use disorder among sexual, gender, and racial/ethnic minority communities. Dr. Shrader leverages her previous experiences working in low resource community-based organizations to inform her research approach. Currently, her Center for Drug Use and HIV/HCV pilot project examines the feasibility of a sociocentric network-based respondent driven sampling recruitment method for HIV prevention programming among Black, Latino, and Caribbean men who have sex with men and use drugs. Dr. Shrader received her PhD in Prevention Science and Community Health at the University of Miami School of Medicine (2021) which was funded by a Ruth L. Kirschstein National Research Service Award from the NIMHD. Her F31 award and dissertation explored how social networks and neighborhood determinants influenced Latine/x sexual minority men's access to PrEP and PrEP-related information. Dr. Shrader received her MPH in Global Health from Emory University and completed her BS in Physiology at the University of Iowa and the University of Cape Town. She is also an HIV, Infectious Disease and Global Health Implementation Research Institute (HIGH IRI) Fellow.