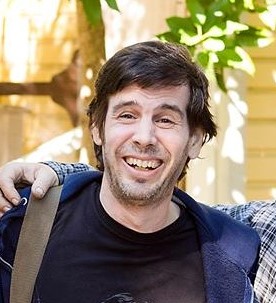 David Frank, PhD
NYU School of Global Public Health - Research Scientist
Hunter College - Adjunct Professor
Education
PhD, Sociology, The Graduate Center, City University of New York
MA, Sociology, DePaul University
BA, Sociology, DePaul University
Research Interests
Medication-assisted treatment (MAT), Methadone maintenance treatment (MMT), Opioids, Criminalization, Addiction, Harm reduction, Drug user rights, Overdose
BIO
David Frank is a Medical Sociologist and Research Scientist at the NYU School of Global Public Health. His research focuses primarily on opioid use, opioid use treatment programs like Medication Assisted Treatment (MAT), and the structural and policy context in which opioid use and treatment occurs within. He is also someone who has been on methadone maintenance treatment for more than 15 years and uses those experiences in his research to produce scholarship that more accurately reflects the lives and real-world experiences of people who use illegal substances.
Dr. Frank is currently working on a NIDA diversity supplement to a
study
 (PIs: Drs. Alex Bennett, Luther Elliott) and Chuck Cleland, that examines how the frequency and intensity of opioid withdrawal could be a catalyst for both treatment initiation and overdose risk behaviors. It is based in part on data he collected from a
CDUHR-funded pilot study
that examined how well MAT's organizational structure aligns with the needs and goals of people on the program. Dr. Frank has also worked on projects exploring better ways of linking people who inject drugs with Pre-exposure prophylaxis (PreP); how COVID-19 has affected the lives and substance use experiences of people that use illegal opioids; and on the overdose knowledge and experience of young, non-medical opioid users. He is currently developing proposals that aim to examine the potential benefits of MAT for people who continue to use illegal drugs, and to re-frame diversion of methadone through the lens of harm reduction. He is committed to using his dual role as a scholar with lived experience of to amplify the voices of people who use drugs and to dismantle the systems that negatively the lives and health of people who use drugs.