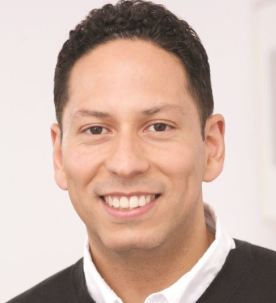 Vincent Guilamo-Ramos, PhD, MPH, RN, LCSW, ANP-BC, PMHNP-BC, AAHIVS, FAAN
Duke University School of Nursing - Dean and Professor
Duke University - Vice Chancellor for Nursing Affairs
Education
PhD, Social Welfare, State University of New York at Albany
MPH, Global Health Leadership, New York University
MS, Non-Profit Management and Public Policy, New York University
MSW, Social Work, New York University
AAS, Professional Nursing, College of Health Sciences: Nursing Program Swedish Institute
BS, Human Services, The College for Human Services
Research Interests
Adolescents, Family-based interventions, Latinos, HIV/AIDS, Teen pregnancy, Sexually transmitted diseases
BIO
Vincent Guilamo-Ramos is Dean and Professor of the Duke University School of Nursing and Vice Chancellor for Nursing Affairs, Duke University. In addition, he is the founding director of the Center for Latino Adolescent and Family Health (CLAFH) at Duke University. Dr. Guilamo-Ramos is a clinical social worker and nurse practitioner, and is board certified in HIV/AIDS nursing (ACRN) and as a HIV specialist (AAHIVS). Clinically, he has expertise in the primary care of HIV positive adolescents, provision of pre-exposure prophylaxis for high-risk youths, and screening and treatment of sexually transmitted diseases. Dr. Guilamo-Ramos studies the role of families in promoting adolescent health, with a special focus on preventing HIV/AIDS, sexually transmitted infections, unplanned pregnancies, and improving treatment outcomes for HIV positive and at-risk youth. He is a Fellow of the American Academy of Social Work and Social Welfare. He serves as Vice Chair of the Board of Directors for the Latino Commission on AIDS, and is a board member of the Power to Decide. Dr. Guilamo-Ramos received his PhD from SUNY Albany, and his MSW and MPH degrees from NYU. In addition, he holds an MS from the Robert F. Wagner Graduate School of Public Service at NYU and an MSN from the Duke University School of Nursing.
Publications
Recent

Notable
Guilamo-Ramos V
, Bouris A, Lee J, McCarthy K, Michael SL, Pitt-Barnes S, Dittus P (2012).
Paternal influences on adolescent sexual risk behaviors: A structured literature review
Pediatrics
, 130 (5), e1313-e1325. doi:
10.1542/peds.2011-2066
.
Guilamo-Ramos V
, Bouris A, Jaccard J, Gonzalez B, McCoy W, Aranda D (2011).
A parent-based intervention to reduce sexual risk behavior in early adolescence: Building alliances between physicians, social workers, and parents
Journal of Adolescent Health
, 48 (2), 159-163. doi:
10.1016/j.jadohealth.2010.06.007
. PMCID: PMC3118646.
Guilamo-Ramos V
, Jaccard J, Dittus P, Gonzalez B, Bouris A, Banspach S (2010).
The Linking Lives health education program: A randomized clinical trial of a parent-based tobacco use prevention program for African American and Latino youths
American Journal of Public Health
, 100 (9), 1641-1647. doi:
10.2105/AJPH.2009.171637
. PMCID: PMC2920962.
Dr. Guilamo-Ramos' MyBibliography Profile